Adam & Erica's Briar Ridge Country Club wedding - Happy 1 year Anniversary!
Exactly one year ago the hotel room at The Hampton Inn in Munster, IN was bustling with bridesmaids and flower girls all getting ready for Erica and Adam's big day. Which, by the way, happened to be the hottest day of the year. (At least by our account.) It was the kind of day where your camera fogs up the minute you step outside. The heat didn't seem to touch Erica though, she looked cool and flawless all day.
"My hair and make-up were done by a friend, Brittany Marshall. Her husband, Clint, was in our wedding. Brittany offered to do my hair and make-up when she heard I was in a pickle looking for someone to do my hair and makeup. I wasn't having good luck with the people that had done a trial on me earlier, so she saved me. She made me look AMAZING. She helped with my nieces hair as well. My cousin, Samantha Mavraganes, did hair and make-up as well. These two women are so talented. I love that it was family and friends helping me out on my big day."
"My dress and bridesmaids dresses were from Elegance in downtown Highland, IN. I wanted it to be ivory with lace. It was the second dress I put on and nothing compared to it. I only tried on dresses once and I knew. I didn't want to shop around and confuse myself anymore. I knew it was the one because it made me feel beautiful and I cried in it. I really had that moment you wish to have. I wanted my bridesmaids to also have lace, so they each picked a different style, but we stuck with the same designer and color, so they all complimented one another. I wanted them to be comfortable."
"Our florist was Kristina Lynn Florist. She was very reasonable and never made us feel pressured to do something we didn't want. She listened and understood what we wanted. She made it an enjoyable experience. We chose champagne colored roses and white hydrangeas for my bouquet and yellow roses for my bridesmaids. There were also some smaller roses used for the groomsmen, dads, and moms."
Adam got ready at his childhood home surrounded by his best friends and family. Adam and Erica were very laid back about their wedding day and their expectations of the photography. However, there was one thing that was very important to Adam and that was to get some candid shots of him and his ailing Father. I was more than happy to capture these moments and I knew while I was pushing the shutter how special these images would be for the family and for Adam and Erica.
Another must have shot that I wanted was the guys wearing the gifts that Adam gave them.
"Adam loves all the DC comics and Marvel series characters, so he gave each groomsmen a different character that he felt represented them. These characters were on a t-shirt, bag, and cuff links for each of them. They also received a personalized beer stein and a bottle opener that was in the shape of the Millennium Falcon. Oh yeah, Adam loves Star Wars too."
I had to ask the guys to brave the smoldering heat for a few minutes to get some outside shots of these shirts. I could tell they weren't thrilled to face the heat but like the superheroes they represented on their shirts, they toughed it out and looked cool doing it.
How their love story began
"We met at Accelerated Physical Therapy. I was sent for therapy and my mother mentioned that there was a cute guy that works there, since she had just been there previously for her own therapy sessions. Adam and I started talking during my visits and realized we had a lot in common. Even though, at first, I was not romantically interested in Adam we had a spark. Once I was released, Adam contacted me and asked me out. The rest is history."
What is your favorite way to spend time together?:
"First and foremost, Adam and I have always put family first. We love to spend our free time with our parents, siblings and friends. When we want to have some one on one time, we love to just cuddle up on the couch, eat some burgers, and watch a movie. We're really simple. It doesn't take much to make us happy. Just being in each others company is enough for us."
How did you know HE was THE ONE?
"Adam and I, like many couples, had some time spent apart in our relationship, where we wanted to make sure this was it. During that time apart, Adams father, Clare, became ill and was diagnosed with Alzheimers. This was a very difficult time for Adam and his family. While their family adjusted, I would see how Adam cared for his father and took care of his needs before his own. I'd been waiting to see Adam mature in this way because that unselfishness was missing from our relationship. Adam always had and still does have the most kind heart, but it really shined when he was helping to aid with his father, his best friend. At that point, I could only hope that this man would love me just as much and one day, our very own children too. He is my best friend and I'm so lucky that he chose me. Oh, he also is the only person that puts up with my crazy antics and stressful demeanor. He's patient and always reminding me to slow down."
How did you know SHE was THE ONE?
"I knew Erica was the one because she was always there for my family. Whenever I needed her, she was always by my side. I have always put my family first and Erica shared that same quality. It was never a question with her or myself. In my mind, I never doubted that this was the woman I was meant to be with for the rest of my life. She's my best friend."
The Proposal
"Adam proposed in our home. We were not living together yet, but one Sunday I was getting home from being out of town and he was waiting for me to get back so we could head out to meet some friends and then over to my parents for dinner. I ran upstairs to get changed and he was up there waiting. While I was quickly changing, I noticed that some new cards came in that we ordered for the game Cards Against Humanity. As I passed them on the dresser, I picked them up and noticed one was very light in weight. I asked Adam what was in them and he told me to check it out. Instead, I threw the box aside and continued to get ready. Once again, I passed the boxes and I made the same comment about the weight of the boxes and Adam again, mentioned I should open it. So, this time I figured I'd better open it. As I opened the box, there was a smaller blue one inside and two playing cards from the game that had a handwritten note. Adam told me to read the cards. If you know the game, one option is to read a sentence with blanks and then you use your cards to best fill in the blanks. Well, the card with the sentence read, " _______ , I love you with all my heart and soul. Will you ______?" On one card there was my full name, Erica K. Pagorek, and the other said, MARRY ME. As I was reading them out loud, Adam grabbed the box, got down on one knee, and asked me to marry him. I SAID YES!!!!!"
"I always loved the Tacori rings and that's exactly what I got!"
The Engagement Session
We had a great time walking around Crown Point with these two. The session was laid back and easy going. We'd heard at our consultation that Adam really liked comic books so we suggested stopping in Chemshaw 13 DonutZ & Comics on Main Street. It's a really fun comic book store / doughnut shop. We highly recommend you stop in if you're around The Square. We knew this would be right up his alley and we think we got some really fun, unique shots too! (Might this shoot have inspired some of the wedding theme possibly!?)
"Picking our wedding party was not easy. We've made so many special friendships in our life that this was not an easy task. We had an uneven number in our bridal party, but with all of our siblings and friends we had to make drastic decisions, which wasn't easy."
"I had my younger sister, Hilary Pagorek, as my maid of honor. My best friend, Stephanie Schrage, has been in my life since we were two, so that was a no brainer. She's been like a sister to me. Stephanie shared some maid of honor responsibilities as well. I had both Hilary and Stephanie speak at the reception. My other two bridesmaids were one of my best friends from college, Lauren Robinson, and my amazing sister-in-law Katy Pagorek. These two women have also been there for me through so many milestones in my life and I needed them by my side for our big day."
"Adam had his brother Josh Giegerich, nephew Brian Inglese, my two brothers Tony Pagorek and Bryan Pagorek, and some of his childhood best friends, Christopher Hektoen, Nathan Ott, and Clint Marshall. All of these individuals are family or have been like family to Adam and I. They have been a huge support system for us through our 6 year relationship of dating. We've really relied on their guidance through the ups and downs. Who else to better be by our side on the most important day of our lives."
The Ceremony & Reception
When asked to describe her wedding style in three words, Erica responded:
The ceremony was held at St. Thomas More Catholic Church in Munster, IN. Erica really wanted to have a balloon release at the end of the ceremony but wasn't sure if it would work. We enthusiastically told her "YES!" we think that would be a great idea! We loved that she chose to do something different.
The reception was held at the beautiful Briar Ridge Country Club in Schererville, IN. With sprawling green lawns and tall trees we were able to capture some beautiful and very romantic moments of the couple.
"We were very happy with the choices of our ceremony location and reception. Everyone was wonderful and so willing to help make our day just perfect".
Erica chose an elegant and modern mix of navy, pale yellow and ivory for her wedding colors.
"We both really love navy, as you can see from the wedding party, and I wanted a color that would also pop on the blue, so I went with a pale yellow and ivory to keep it looking clean. I don't like crazy, obnoxious colors that will take away from our special moments. Like I mentioned before, we are very simple and we wanted to keep it that way."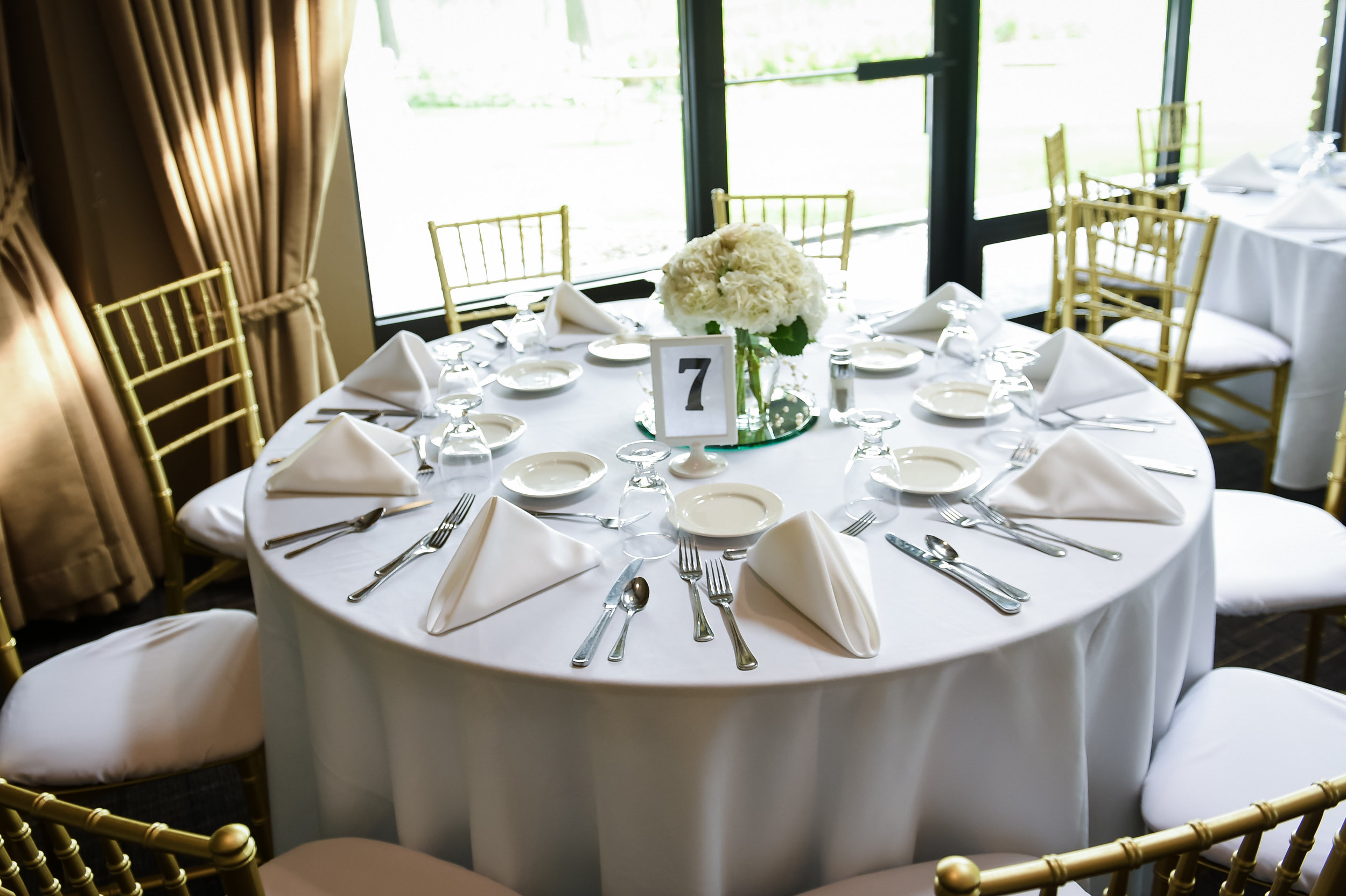 Vendor Recap:
VENUE, Briar Ridge Country Club
RINGS, James and Sons
WEDDING GOWN & BRIDESMAID DRESSES, Elegance Wedding and Evening Wear
HAIR & MAKEUP, Brittany Marshall & Samantha Mavraganes
TUXEDOS, The Black Tux
FLORAL DESIGN, Kristina Lynn Floral
DJ, Joe Musyka
Advice from the bride
"I used Pinterest to help with many of my ideas or to at least spark some ideas of my own. Honestly, the biggest challenge with trying to keep it all in budget and to accommodate for my father in law that had Alzheimers. Within the year of planning, we had some disagreements, we had some easy decisions, but as long as you tackle the big items right away (hall, church, guest list) you just fill in the gaps in between. Adam wanted me to be happy, so he tried not to get in the way and let me handle most of the decision making, but I always kept him in the loop.
"Like I mentioned, plan early and be decisive. I usually have a difficult time making decisions, but it came easier when you're on a budget. Know where you want to spend more money and where you can cut back. I would recommend spending more on the drinks, food, MUSIC, and photography. If you're guests aren't dancing all night, something is wrong!!!!"
What made you choose Carmen & Jamie as your wedding photographers?:
They were recommended to us by my brother and sister in law. After looking at the photos on their website we set up an appointment to meet them. We clicked with them right away and we knew they would capture all the important moments we wanted to remember through this wedding experience. Our instincts were right. We couldn't be happier with the outcome of our photos. After our engagement photos we were convinced we made the right choice and couldn't wait till the wedding. We've gotten so many compliments on our photos and we can't thank them enough.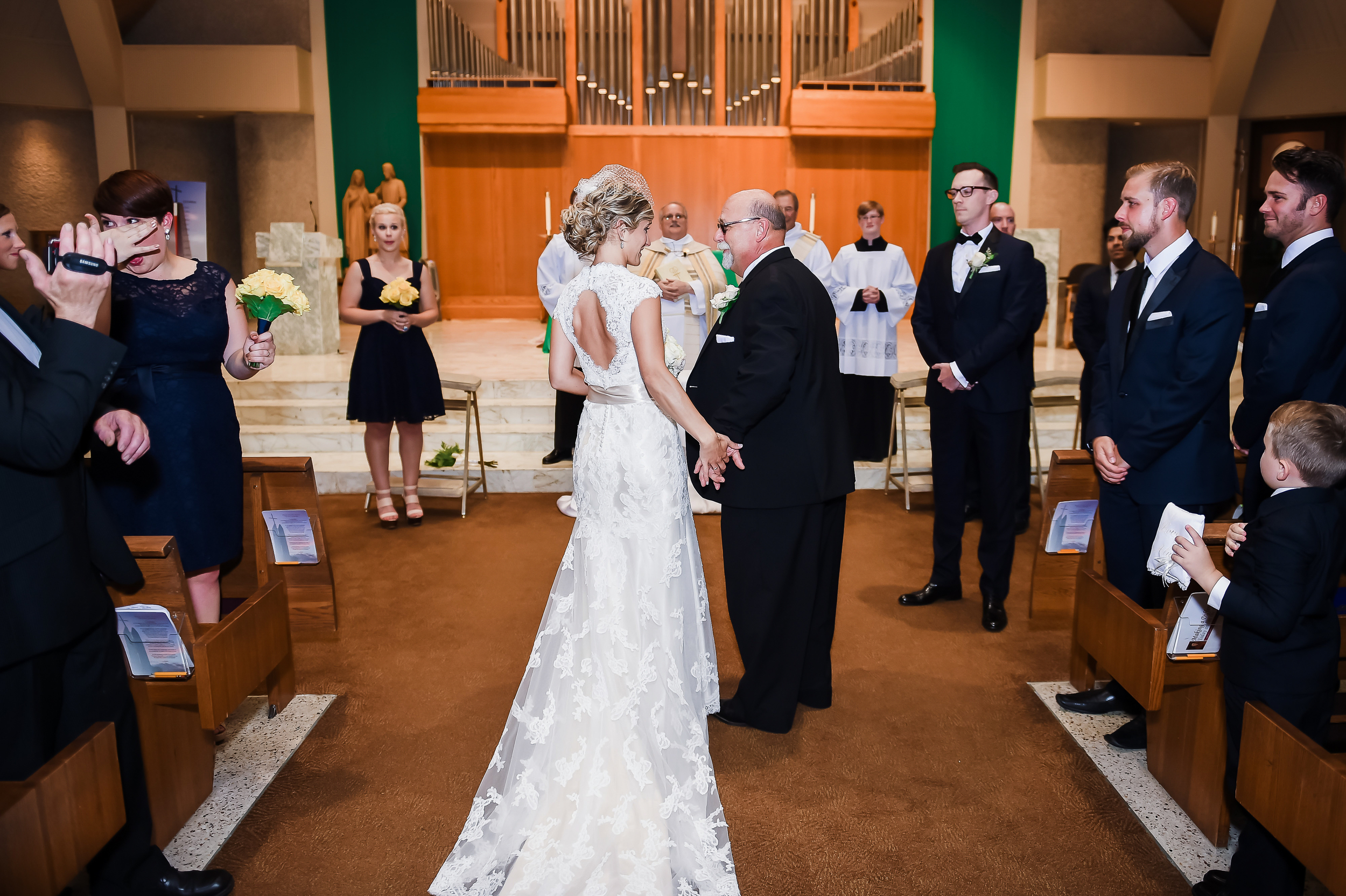 Erica & Adam we wish you nothing but the best! Happy Anniversary and to many more!
Jamie & Carmen